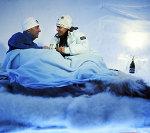 Igloo hotel (accommodation / night)
The Igloo hotel was built as part of the Igloo Village. It includes two igloos for 8 persons to sleep in each and also two special romantic igloos for couples.
The temperature in the igloos is 0-4 °C. The beds are made ​of blocks of snow and are covered with an insulating material. The second cover are sheeps skin which is known to be very warm material. On top of all you will find a special expeditionary sleeping bag (-30 °C), which will for sure keep you warm all night long.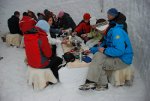 Igloo restaurant
In the Igloo restaurant you will have a chance to experience a traditional Slovenian sausage (Carniolian Sausage) with horseradish on the side and fresh bread. A typical Slovenian dish that will not disappoint your taste buds.You will be served in a special igloo with a unique atmosphere that has the capacity for 45 guests or outside on the snow terrace.
This is a great way to spend your lunch, after morning sport activities or a romantic way to have a candlelight dinner.
The Igloo restaurant is open everyday from 10am to closing of the ski slopes. Advance reservations required.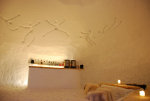 Welcome to our snow-palace called the igloo bar!
This is an idyllic location to spend your time after a hard day of fun activities on the snow, enjoying an après ski drink with your friends or family or just taking a break during the day for some special Eskimo drink, hot tea, different soft drinks, energy drinks or our special drink.
The Igloo Bar has very special atmosphere and is also a fantastic lifetime experience. It is out of the ordinary place to organise a birthday party, anniversary or even a wedding.
We play soft chill out music and offer excellent service to all our guests for an unforgettable experience!