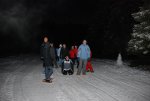 Eskimo Adventure
Eskimo adventure is a great way to spend your afternoon. The adventure begins with snowshoeing where a guide takes you across the slopes to the igloo village. On arrival at the igloo village you will be served with our official welcome drink the Eskimo and a snack – Carnolian Sausage with horseradish.
After the refreshments we will give you a tour of the igloo village. To make the adventure a perfect event, you will leave the igloo village on snowshoes!
Price: 29.90 € (for children under 14 years 19.90 €)
The program lasts 3 hours. Knowledge of skiing is not necessary.
The program is carried out on Thursday, Friday and Saturday at 16.30h and at 20.00h
The program is carried if we have booking for min. 8 persons.
Reservations: via email [email protected].